Renewed and recycled only: ReTuna Aterbruksgalleria
Shopping malls: the purveyors of cheap fashion, decimating town centres, the haunt of dillusioned youth. Not at ReTuna Aterbruksgalleria, in the Swedish city of Eskilstuna, which is setting a new example for shopping in a sustainable way: by selling only repaired or upcycled products.
No-longer wanted goods are donated by customers and then streamed through 14 specialty shops - furniture, computers, clothes, toys, bikes, etc - where they are repurposed, repaired, fixed up, converted, refined – and ultimately sold, in their shiny new state, to shoppers.
The good news doesn't stop there. All the stores operate in environmentally conscious ways. The centre's cafe, for example, focuses heavily on organic produce.
The centre, which is operated by the local municipality, has created 50 new jobs in repair and retail whilst providing space for start-ups and local artisans.
But the biggest bonus for the community is how ReTuna relieves local government from the burden of disposing of unwanted goods while turning potential "waste" into profits. And there are profits: last year, ReTuna Återbruksgalleria made SEK 8.1 million in sales.
But ReTuna is more than a marketplace; it also aims to be a public educator. Events, workshops, lectures, theme days, and more are organised all with a focus on sustainability. The folk high school Eskilstuna Folkhögskola conducts its one-year education program "Recycle Design – Återbruk" in the premises.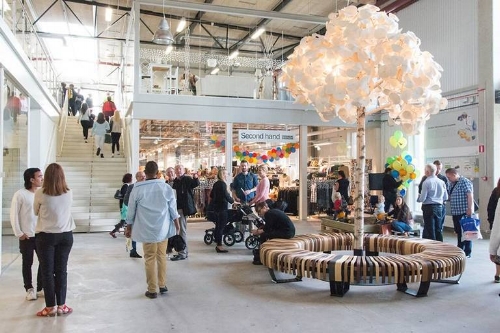 CAPTION: The centre continues to challenge the norms of retail and offers a model, not just for other malls in Sweden but around the world.
In its philosophy and practices, ReTuna embodies the possibilities of living in a circular economy, where the inherent value of the things we throw away every day is recognised and restored. It's no longer a dream; at ReTuna, it's everyday life.